Surge Protection Device (SPD)
The basic principle for protection of an installation against the risk of lightning strikes is to prevent the disturbing energy from reaching sensitive equipment. To achieve this, Two protection systems are used to eliminate or limit overvoltages they are known as
1. External lightning protection
is the building protection system (for the outside of buildings), to prevent physical damages by use LPS components installation.
2. Internal lightning protection
is the electrical installation protection system (for the inside of buildings), to prevent effects of LEMP (Lightning electromagnetic pulse) caused by lightning, and minimize induced and indirect effects by installing SPD and/or filters.
Information related to current and voltage surge waveforms
The voltage, current and time characteristics of the surge waveform. Different surge waveforms and levels are used for testing depending upon the stresses to which the SPD is expected to be exposed.
Guidance for the selection of the appropriate test class(es) for an SPD is given in the introduction to IEC 61643-11.
When selecting an SPD, it is necessary to consider both the test class and the magnitude of the impulse for which it is rated.
Lightning current waveform 10/350 µs (Direct lightning strike)
A current impulse with a virtual front time (time to rise from 10% to 90% of the peak value) of 10 µs and a time to half-value of 350 µs ; it is used for classification of the SPD class I.
Lightning current waveform 8/20 µs (Indirect lightning strike and transient switching)
A current impulse with a virtual front time (time to rise from 10% to 90% of the peak value) of 8 µs and a time to half-value of 20 µs ; it is used to test the SPD class I and II.
Voltage surge waveform 1.2/50 µs
A voltage impulse with a virtual front time (time to rise from 30% to 90% of the peak value) of 1.2µs and a time to half-value of 50µs; it is used for classification of the SPD class I and II.
Kumwell Surge Protection Device (SPD) provides protection against electromagnetic impulses from lightning to the electrical and electronic equipment located on the structures. Although surges have existed since the creation of electrical network, the need for protection is nowadays much greater. This is due to advanced technology making electrical component ever smaller and more sensitive to electromagnetic disturbances.
Kumwell SPD has tested according to IEC 61643-11, IEC 61643-21, IEC 61643-31 and certified by VDE (Verband der Elektro technik). Moreover, we provide the new technology of Smart SPD Monitoring for maintain the reliability of SPD in the system
SPD for Low Voltage Power Supply Systems
When selecting SPD for low voltage power supply systems, acknowledging your electric system (connection, grounding, connected devices, and more) is mandatory. Moreover, SPD for low voltage power supply systems should have high surge current capability and critically reduce surge voltage. Kumwell research, tests, produces, and merchandises SPDs having high lightning impulse current protection; therefore, Kumwell SPD can protect your system or devices better than common SPDs. Moreover, Kumwell provides comprehensive after-sales service such as installation and maintenance; customers can be relieved that their electrical systems and appliances will continue to work for a long time.
The highlighted SPDs for the low voltage power supply system are listed below. (For more products and details, please get in touch with salespersons).
SPD for Photovoltaic System (PV)
Photovoltaic, often called a solar system, is a light conversion to electricity by semiconductor materials. However, since most solar panels are often installed as solar farms or solar arrays, there are high risks of getting lightning strikes. Moreover, due to the sizable impact of direct lightning strikes, the stroked solar panel can be critically physical and systematically damaged, while nearby panels are also systematically damaged. Consequently, the light conversion can be disrupted and have a high cost to replace the damaged panels. Kumwell provides SPD for a photovoltaic system with a one-stop after-sales service, securing photovoltaic system safety at any time.
SPD for Information Technology (IT) and Equipment
SPD is critical information technology & equipment mainly because if the IT equipment is damaged, it may cause the whole system failure. Many industries are driven by IoTs, communication systems, electrical systems, information systems, and more. Nonetheless, these stated systems can be disrupted by surges, mainly from the lightning strike. The disruption can cause inevitable damage to the business and operation, especially in data-sensitive organizations or critical devices-dependent industries such as airports, hospitals, warehouses, telecommunications, and more. Kumwell researches, tests, produces, merchandises, and provides complete after-sale services SPD for IT and equipment, guaranteeing the system's stability and being operational at any time.
Smart IoT SPD / Lightning Counters / Surge Counters
Although having SPD can save invaluable devices from being damaged and can maintain many industries' operations non-stop, it is not enough for permanent devices' safety due to SPD's limited life cycle. Moreover, most SPDs do not have the current status indicator; therefore, maintenance of SPDs is necessary. However, the SPD check-up can be high costs if the buildings are immense or the system is complex.
Kumwell provides Smart IoT SPD, Surge Counters, and Lightning Counters to monitor SPDs' status remotely. These devices can facilitate unmanned operation systems and guarantee non-stop operations at any moment. Kumwell's highlighted products are listed below.
SCB-SPD Circuit Breaker/ SCB with Automatic Recloser
1. Kumwell SCB solves the fire problem caused by SPD degradation and power grid failure. It can avoid SPD external disconnector tripping mistakenly under the lightning stroke.
2. Kumwell SCB with Automatic Recloser will reclose tripped SCB automatically to guarantee continuous lightning protection.
Smart IoT SPD
Kumwell's smart IoT SPD is the patent product to detect microamps leakage current on SPD in real-time. It can monitor its status, collect data automatically and report actively. Integrated smart SPD adopts standard RS485 and can be applied in the power distribution of railway airports, electricity, petrochemicals, new energy, communication, and more.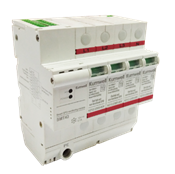 Centralized Controller
Kumwell CT.CTRL-T1 (Centralized Controller) is the core part of smart SPD systems; centralized controller collects and transmits data to the computer via TCP/IP, GPRS, or enhanced RS485.